concept feedback closes: 3 possible alternatives

Conceptfeedback.com will be over on 31 March 2016.
After 7 years of successes the Concept Feedback team, has announced the upcoming end of their community feedback platform.
This is the official statement on their website :
"Seven years since we began, we have a difficult announcement to make. Starting today we would be winding down the services of Concept Feedback and it will be fully retired by March 31, 2016. Over the coming weeks we would be restricting access to creating new concepts and posting reviews.
For all our existing community users, we understand that you would like to retain the insights you have derived from the community feedback. To do so, you can go to a concept and click on the "Export" option on the top right corner. This should enable you to download a PDF copy of the reviews posted on the concept for your future reference.
We enjoyed helping the community in creating and sharing ideas to optimize websites and hope Concept Feedback was helpful in the optimization journey for each one of you. We learnt a lot on how websites are optimized and how feedback from designers, marketers and optimizers can be translated into guaranteed conversion wins.
Thank you for being a valuable user of Concept Feedback. "
What if you still want feedback?
Because we liked concept feedback service so much  we feel pretty much obliged to suggest you 3 alternatives, that will allow you to review and reinforce the appearance of your website .

1) Criticue
The Criticue Project was born in 2013 in Poland, as a tool for creating feedback, very useful to professionals and businesses to evaluate and improve a website through suggestions on everything from graphic design to the messages within.
What's the main feature of Criticue?
It's the ease of use, you just need to write your Web site URL and a screenshot of the page.
You'll get feedback from professionals who will assess and advise you about what to improve and how.
Criticue is not about taking but GIVING too
With criticue before you can get some comments you need to help other users, with appropriate comments and reviews, because only after the moderators will read your hopefully useful feedback, you will receive a credit to receive reviews on your site.
Clearly you must be prepared to receive both positive and negative feedback as well.
Constructive feedback will allow to really understand where to act and make improvements and where, I used this very service to help my website and it rocks!
You can to get in touch with your reviewers, but their identity is totally anonymous and reviews are confidential.
Here is an example of a very useful and in-depth feedback I've received.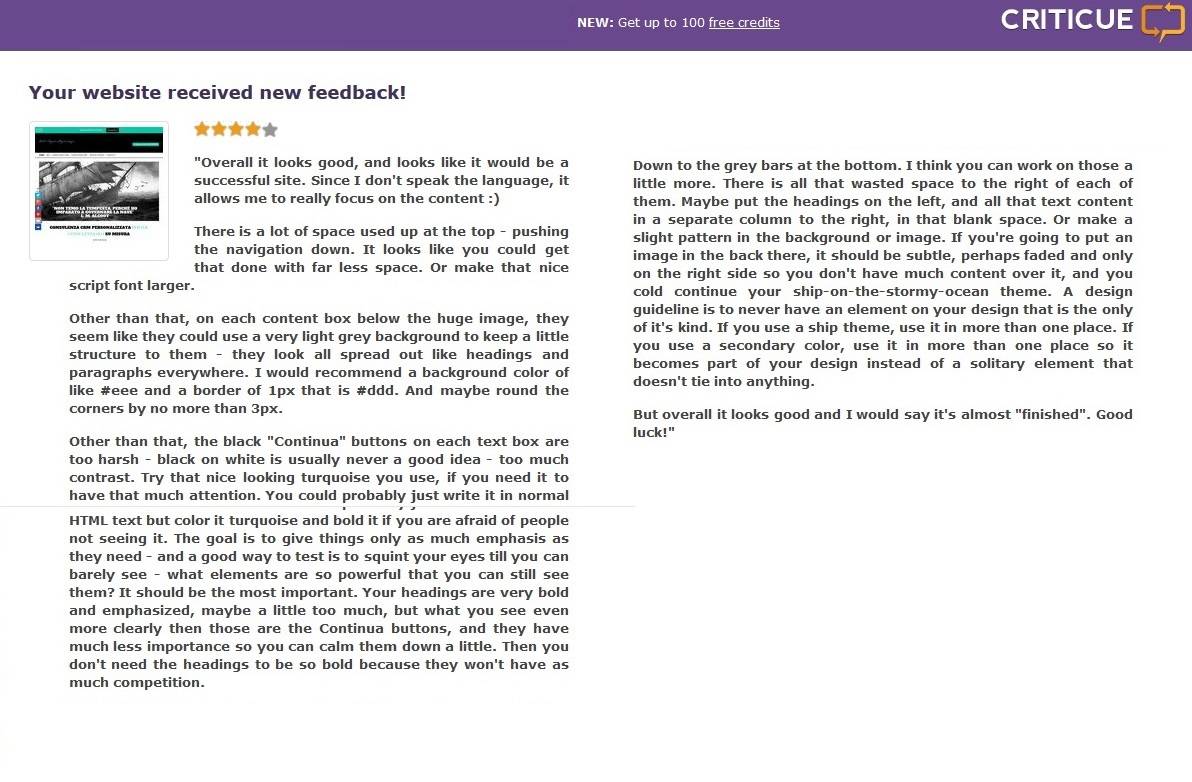 You can get as much feedback as you need by reviewing other web pages with a minimum of 50 words and you can also evaluate the website with stars, just like a product review on Amazon.
What if you have no time to help others?
No problem! Criticue has an option for you to purchase has much feedback as you want!
Criticue rised in 2013 among the most interesting start-ups, and now it' s become an accomplished platform in the world of community feedback services.
Link: www.criticue.com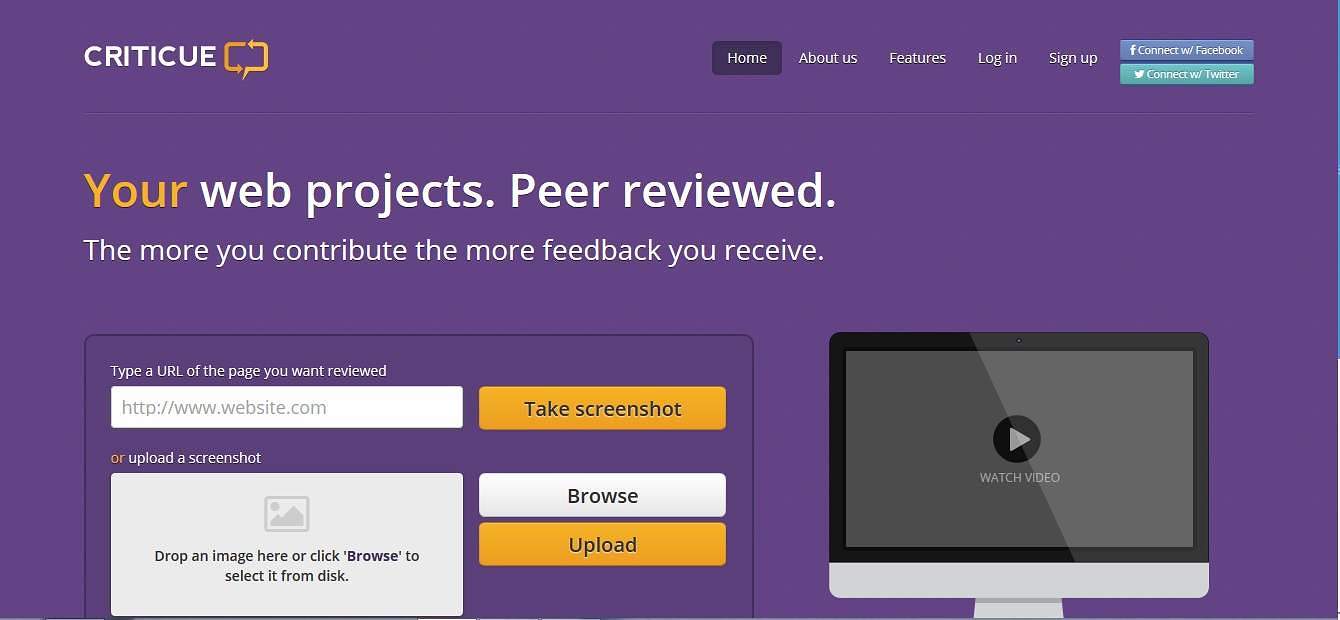 2) Five second test
Five second test is one of the five platforms of the renowned Usability Hub.
Why it is all about?
It 's a service that allows you to get feedback and advice from industry experts about your website, your brochures, your logo and your landing pages.
Once the user enters his website/logo screenshot , it will be evaluated by other users, but only for 5 seconds per test! But there's more..users than are submitted your survey, so you can get focused answers about what they recall and what they think about this or that feature of your website.
Questions from the survey could include questions such as:
"What's the company name?"
"What do you think of the product / service that the company sells?
What the paid version will get you
The paid version of the platform has very interesting ideas:
You get results 3 times faster than the free version, and your site is inserted as high priority on the list and you will be able to immediately receive the answers to your survey.
You have the chance to ask those who evaluates your work, for their demographic information before they start of the assessment;
It's possibile to invite many members of your team and to review your projects, sharing the results with all the team;
You can redirect your users to a landing page on your website after they answered the survey;
You can submit your users with preliminary tests and in-depth tests, to have a deeper analysis of a website;
Every test is fully customizable e.g.:  the font, the headers,the "thank you" messages, and so on.
A / B split testing functionality, e.g. for testing  different versions of your site in order to quickly understand which is the best version the choose for everyday use based on customer preferences.
A simple, customizable and fast testing tool!
Link: www.fivesecondtest.com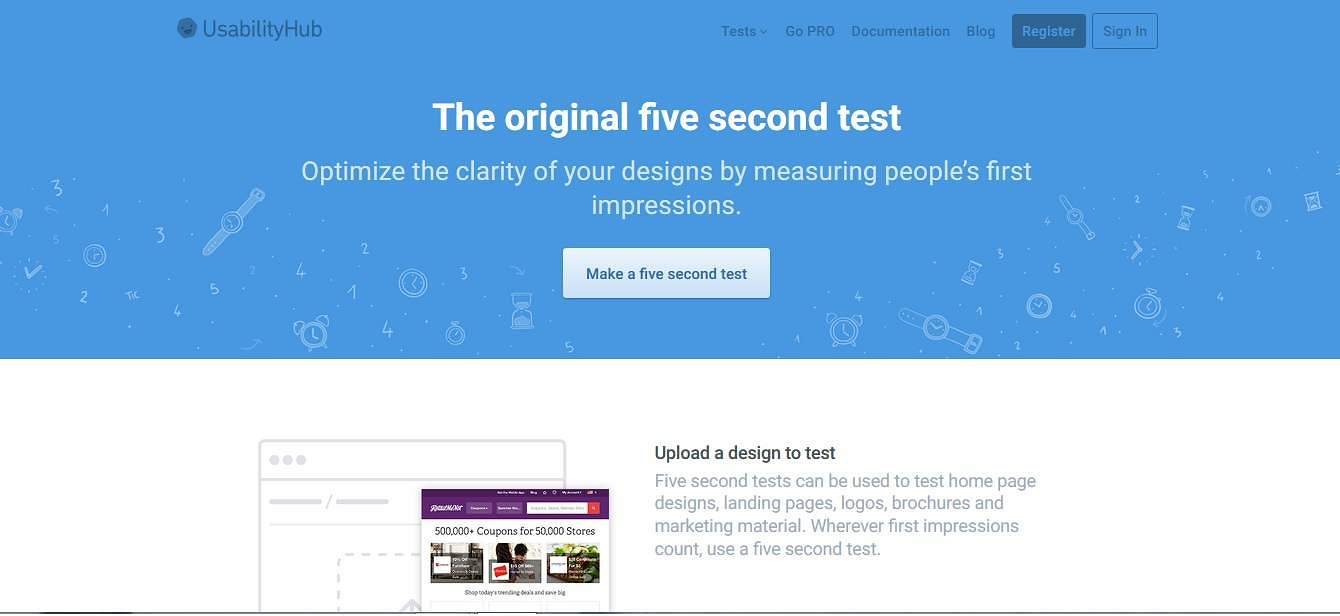 3) Track Duck
Trackduck is a tool that allows you to tackle the real problem which is the basis of the internet sites and everything is online: the communication with your customer/user.
The waste of time and loss of patience are the two things that make customers go away.
So why should I choose Track duck?
As their pitch says, track duck provides a "visual feedback and bug tracking" platform.
With the free version you can have feedback and bug reports attached to screenshots along with the url of the page they assessed and all the technical details involved.
Trackduck allows you to test immediately a demo version, and no credit card is required.
Useful to kickstart a website
Track duck is especially useful, in the final weeks before launching a new website.
You can get more benefits if you invite all your team to participate in a track duck project, so they can provide their comments and track any bugs they can find;
Your website visitors can help you too!
You'll be able to improve your website after it launched as well, by asking feedback to all the visitors of your website.
This way you will reduce test time and design problems to make your website bug free and more customer friendly.
Integrations!
You can choose to integrate your track duck tools with your organization's tools such as CRM systems, which are customer relationship management systems that help your enterprise to leverage customer data and their feedback to allow you the close more deals and to sell more product/services.
The free version of Trackduck lasts exactly 14 days, and it's enough time to allow you to evaluate every feature of this feedback platform.
Pricing?
There are two payment options:
1. The first is a  $ 9 per month plan that allows you to manage only 2 projects , and it does not allow custom integrations or self-hosted use;
2. The second allows managing unlimited projects and includes everything . To know the price for this option you'll have to contact to sales team
Link: www.trackduck.com